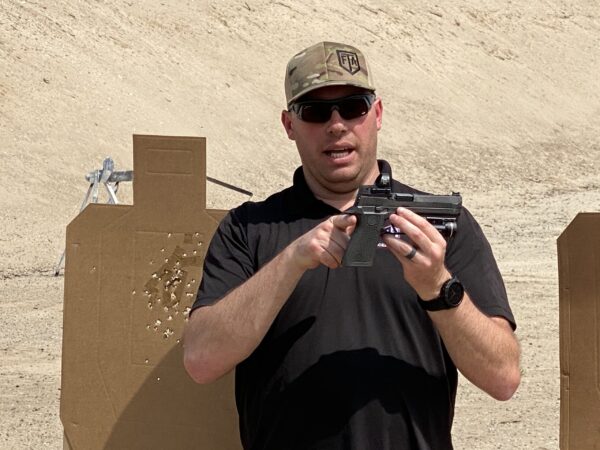 This unique course is a result of my own journey as a shooter, intended to streamline each student's development to shooting enlightenment by distilling shooting down to its simplest principles and forms. I had to learn a lot of things the hard way, and it's now time to pass along those lessons learned to help you establish a pathway forward that bypasses the common pitfalls most shooters spend YEARS struggling to get past.
One of the biggest lessons I had to learn was the importance of and the role that visual processing plays in one's shooting. I spent a long time stuck in my development not because I couldn't grip and press the trigger well, but it was because I didn't yet understand how to unlock the potential that already existed in my vision—the ability to see and process visual information more efficiently and with greater precision.
In this course, we will unlock that visual performance and show you how to connect what you see with your desired results on target. You will come away with the ability to KNOW precisely where each bullet fired will impact the target before it even gets there. Some of the things in the course may seem like it has a competition focus, but I promise you these concepts are ESPECIALLY useful for gun-carrying professionals and serious concealed-carrying citizens. We will also cover the following:
Principles of grip
Sight picture
Trigger manipulation
Recoil management done the right way!
The "Stoplight Analogy" for proper throttle control
How to discover your own unique techniques that work best for you
Vision drills
Shot calling
Accountability for hits
Draw efficiency
Concepts of sooner NOT faster
Transitions
Movement, especially shooting on the move and how visual processing can help us do this better
"Gunfight Hit Factor" – what it is, and how we can use it to maximize our performance
Plus, each student will shoot the Pistol Intelligence Standards to establish their own Pistol Intelligence Quotient (I.Q.) score. This score can then be used to establish a baseline of performance to measure future growth. To score well at the Pistol Intelligence Standards requires that a shooter be well-rounded and not just good at one or two things. Those that can score a Pistol IQ of 144 points or more will be awarded an exclusive numbered Pistol IQ Metal Card. Course requirements:
This should not be the first formal pistol training course you have taken. This is not a class intended to teach you how to draw or how to setup your gear. This is a class to teach you how to SHOOT! You should already be capable of consistently passing Gila Hayes' 5×5 Drill if you're wondering whether this would be a good fit for you or not. Being able to consistently shoot a 90+ on the 10-10-10 drill would be another good metric to gauge readiness.
800 rounds of reliable ammunition
Quality pistol
A minimum of 3 magazines (if single stack, 5 mags minimum)
Mag pouches (you should be able to carry at least 2 spare mags on your person)
Quality holster – No Serpas – No soft/collapsible holsters
Eye protection (safety-rated)
Electronic hearing protection STRONGLY encouraged
Clothing appropriate for the range and weather
Note-taking materials (notepad/pen or phone)
Good attitude and an open mind
*Course tuition does not include any range-use fees that are payable to the range or course host.